Angels Heating & Air Conditioning by Angels Sheet Metal, Inc., Your Licensed Contractor for Ductwork
At Angels Heating & Air Conditioning by Angels Sheet Metal, Inc., as a licensed contractor, we understand the importance of well-functioning ducts for the optimal performance of your HVAC system. Our expert team is here to provide you with top-notch ductwork services that will keep your home comfortable year-round.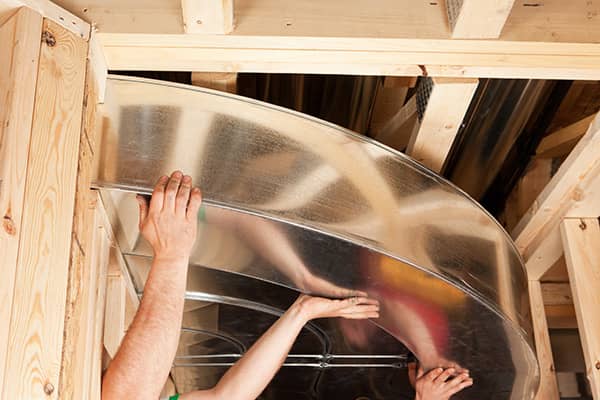 Duct Fabrication and Installation
We take pride in our precise duct fabrication and installation services. Our skilled technicians use state-of-the-art equipment to create custom ductwork tailored to the unique needs of your home. We ensure proper sizing and placement to optimize airflow and maximize energy efficiency.
Duct Repair and Sealing
Is your HVAC system not delivering the desired temperature to all areas of your home? As a licensed contractor, we specialize in duct repair and sealing to eliminate air leaks and restore balanced airflow. We meticulously inspect your ductwork, identify any issues, and apply effective sealing techniques to improve efficiency and reduce energy waste.
Duct Cleaning and Maintenance
Clean and well-maintained ducts are essential for indoor air quality and system performance. Our thorough duct cleaning and maintenance services remove dirt, debris, and allergens, promoting healthier air circulation. Regular maintenance helps extend the lifespan of your HVAC system, ensuring it operates smoothly and efficiently.
Why Choose Us?
Over ten years of experience serving Angels Camp, CA, and surrounding areas.
Family-owned and operated, providing personalized service and attention to detail.
Fully insured, licensed, and certified professionals for your peace of mind.
Free estimates for new units, new construction, and replacements.
We go above and beyond to exceed your expectations and deliver exceptional results.
Contact Us
For reliable and professional ductwork services, contact us today as your new licensed contractor at (209) 736-4541 or email csr@angelssheetmetalinc.com. Don't forget to visit our Facebook page and Yelp page for more information and customer reviews. We look forward to serving you and keeping your HVAC system running at its best.